Find the Best Foundation for Oily Skin: The Greatest Challenge Solved
Choosing the right make up for oily skin seems like a very tricky challenge: too matte foundations make you look cakey and those dewy products accentuate the unwanted shine even more. Applying a little more makes you look like a clown, but applying a smaller amount doesn't cover the acne and you look unpolished.
So, what exactly would be the best foundation for oily skin? That would be a product that gives enough coverage for acne and acne scarring (if you have it), gives the skin a healthy look without making it cakey nor shiny, and doesn't clog the pores or harm the skin in any other way. That seems like an impossible thing, does it? The cosmetic industry is working hard to come up with products that would satisfy our needs, so we can't complain about not having choices. The problem is – which one to choose?
I have used and tested innumerous foundations and I feel comfortable recommending some of the best ones out there. This article will teach you exactly what you should look for in a foundation, and it will help you choose the right product according to your specific needs.
How to choose a foundation?
The undesirable shine effect is one of the biggest troubles of oily skin, but it is far from being the only one. Apart from that problem, people with problematic skin also have to deal with acne, blemishes and clogged pores. Clogging those pores with some heavy foundation can mean only one thing: more acne, more blackheads and plenty of dead cells on the skin's surface. Mattifying foundations may take care of the shine, but they make the large pores even more visible, which can look really embarrassing. You take care of one problem – another one comes up.
My best advice is to stay away from dry, overly-mattifying formulas. They make the problem even worse!
Youn need a makeup with proper coverage, but its effect mustn't be too drying because it will make the face look patchy and uneven. People with oily skin tend to experiment a lot when it comes to choosing the right foundation, and the reason for that is simple: they have difficulties finding the perfect product. If you want to stop spending so much money on useless products, then you should spend more wisely. Don't stay away from the high-end products on the market. Experimenting with cheap foundations won't get you anywhere and you would spend even more money than by purchasing a high-quality product with proven effects. I am not saying that you cannot make a mistake with an expensive foundation, but if you make the right research and choose the formula according to your needs – the chances of making another mistake will be minimized. 
During the summer months, make sure to choose a foundation with a good SPF. That will eliminate the need of applying an SPF moisturizer under it, and we all know that most of those sunscreens are quite heavy.
Going for a powder or an oil-free liquid foundation is a smart choice for oily skin, but that doesn't mean that all products that are labeled as such would work perfectly for you.
Foundation is not enough. Choose the right primer!
If you have an oily skin and you intend on spending the whole day out on hot weather, it doesn't matter how perfect your foundation is – your face would still get shiny. You don't have to wear a primer every day, since it does burden the skin with an extra layer, but if you want your makeup to get you through a whole day without embarrassing you, then a primer is a must!
Among all reputable primers that I have tried, I find the Arbonne Makeup Primer to be the best one. It doesn't dry out the skin, but it keeps it shine-free for a much longer time, even under hot weather. If you are looking for impressive results, this is the product to try.
I don't have to teach you that proper skin care is more than important if you want to get the best out of your foundation. If you don't pay attention to cleaning your skin entirely each day and treating it with high-quality masks, then it won't matter how good your make up is – you still won't get it perfect.
If you take care of your skin with carefully chosen products, and apply the right (oil-free) moisturizer and primer under the foundation – you may actually achieve miraculous results.
Tips for making the make up last longer
If I asked people with oily skin what they do in order to make their foundation last longer, most of them will provide the following answer: "I use powder and re-apply it throughout the day." This is one of the worst things you could do. Yes, that would keep you shine-free, but after few hours you would have a patchy, chalky and totally unappealing build up of products, which is painful to look at. Sometimes I get the desire to stop women on the streets and tell them not to do that!
Another mistake is that women usually choose the wrong shade of powder, which oxidizes throughout the day and looks darker than the rest of their skin. If you decided to use powder, you should choose one shade lighter and for God's sake, please don't reapply it dozens of times!
The product that made my life easier is blot powder. This fabulous product comes in loose or pressed form and it is usually colorless, which means that the skin doesn't get darker throughout the day. A high-quality blot powder has some other benefits when compared to usual heavy setting powders: it doesn't set into the pores and it does provide a matte finish, but not one that looks totally unnatural. The matte finish achieved with a blot powder is much softer and looks healthier.
The MAC Blot Powder Pressed is not colorless, but I find that it doesn't oxidize and it works perfectly when applied in small quantity. I don't like using the puff that is featured in the package because it gives a heavier effect. However, the result is perfect when I use a powder brush.
Another great product is Urban Decay De-Slick Mattifying Powder. This won't work for those of you who want the ultimate matte finish, but I already told you that I don't particularly like that effect. This powder is mattifying exactly as it should be. This product is white, which works great on my light skin tone, but if you are darker, it may end up a little ashy. In that case, I say go for the MAC Blot Powder Pressed.
Another great way to make the makeup last longer is by using a setting spray. This way you can leave out the powder and go straight from foundation to spray. The effect is lighter and more natural, which is perfect for daily makeup. The Urban Decay De-Slick Oil-Control Makeup Setting Spray is my favorite product of this kind. Combined with my perfect choice of foundation, you couldn't even tell that I have oily skin – I look perfectly normal.
The 5 stars on the market
So, now, let's get to the important stuff: Which are the best foundations on the market? Through a lot of trial and error, I have found five products which actually satisfy the needs of oily skin, so I will summarize my reviews in this article. Please note that not all oily skins are the same – that's exactly what makes the process of choosing perfect foundation so difficult. Being a professional makeup artist, I have found that different clients with oily skin need different foundation, which is why I made a useful comparison that will help you make the right decision.
Make Up For Ever Mat Velvet + Matifying Foundation
This foundation works perfectly for me. It does have a mattifying effect, but it still gives a nice healthy velvety appearance that looks (well, almost) natural. Although it is quite pigmented and provides higher coverage, it doesn't give the effect of a mask face. The staying power is extremely satisfying, but I tend to set it with the Urban Decay spray when the weather is hot.
The best thing about this product is that it's water resistant, which means that I can even wear it to the beach without being afraid of any accidents.
This product doesn't have an overly-drying effect, but it still needs a moisturizer under it because otherwise it will form dry patches. If you tend to get those dry patches with most foundation, then you will definitely need a primer under this product.
As for coverage, this Make Up Forever foundation is definitely satisfying, but it still leaves the skin looking natural. If you want to achieve the most perfect flawless look, I have another recommendation for you, but this Make Up Forever product is perfect for everyday usage. The foundation is non-comedogenic, which means that it won't cause any breakouts. I have been using the product every day for a long time and I can only confirm that.
This product costs from $40 to $50, depending on your shade.
–>> Click Here to See the Product Price and Reviews at Amazon.com
Estee Lauder Double Wear Stay-in-Place Makeup
This is an exclusive product that I love using on clients with oily skin because it seems to never fail. I have tested this foundation under the hottest possible weather and it stood up to the test brilliantly. There is one downside, though – it gives me a little dryness around my lips and under my nose, so I tend to use it only on clients with more oily skin than mine. The finish is completely matte, but I like a little healthy luminosity to my skin, which is why I prefer the Make Up Forever. However, the Estee Lauder is my favorite makeup to use on brides because it looks awesome in pictures!
This foundation needs only a little amount in order to provide great coverage and it is best applied with a brush.
Different shades of this product have different prices and you can get it from $46 to $62, which is actually quite a reasonable price for such high quality.
–>> Click Here to See the Product Price and Reviews at Amazon.com
Laura Mercier Oil-Free Supreme Foundation
This is one of my favorite foundations to use when my skin is not covered with acne. This is the perfect choice for people who have oily skin, but don't need a lot of coverage and are looking for something light that will even out their skin tone while providing a soft matte finish.
This formula doesn't dry out the skin, it makes the pores unnoticeable and it doesn't set into them at all. Although it is light, this foundation is buildable and you can take it to moderate coverage if you apply it carefully.
Laura Mercier Oil-Free foundation costs around $43, but you may get it on discount depending on the shade.
–>> Click Here to See the Product Price and Reviews at Amazon.com
Revlon ColorStay Makeup for Oily/Combination Skin
Revlon is the king of drugstore foundations, and I am stating that without a doubt. I have tested many drugstore foundations and most of them were a complete disappointment. However, Revlon proves that you can actually get a high-quality product without spending too much, although I wouldn't actually say that it is just as good as the more expensive options on this list.
The coverage is medium, but you can build it to higher coverage. I like the finish of this makeup because it is not overly matte, which is the case with all other drugstore foundations that I've tried. This product looks very natural and it has a perfectly decent staying power (although I would recommend using a blot powder over it for better results).
This Revlon product is available for only $13.99, but you can also land a discount depending on the shade you use.
–>> Click Here to See the Product Price and Reviews at Amazon.com
Vichy Dermablend Corrective Foundation
If you have many acne scars, uneven skin tone and other problems that seem impossible to get covered, then the Vichy Dermablend will be the right choice for you. I use this foundation on clients who have really problematic skin that would look even worse with other makeup products. It literally covers everything, from vitiligo to acne, acne scarring, unevenness and large pores. The only downside to this product is that it does clog the pores, but it is practically necessary to use on special occasions for people with such problematic skin. If you are afraid of looking cakey, that won't happen with this foundation!
I also find this foundation very effective as a concealer – I apply it with a concealer brush wherever the skin needs more coverage, and it really works wonders.
This Vichy foundation lasts perfectly put on oily skin, but it can also be used by all other skin types with the proper base. It needs careful application and be careful not to apply too much of it! When I see a client with skin problems that are hard to cover with normal makeup, I use this product and it has never failed me.
The price is quite acceptable – it costs $33.11 and if you ask me, I would pay more for this product if I didn't know its price.
–>> Click Here to See the Product Price and Reviews at Amazon.com
Conclusion: Research is the way to perfection!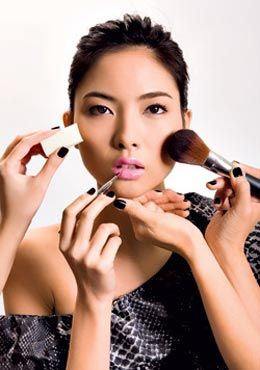 Thanks to the Internet, you no longer have to try foundations blindly. It is always wise to read about other people's experiences before you purchase a certain product. However, don't raise your expectations too high because, as I said, choosing the best makeup for oily skin is more of an individual challenge. According to the statistics women by at least seven different formulas before they find something that actually works. This should be enough to prove that purchasing a foundation is not an easy choice to make.
The best tip that I can give you is to forget about that tendency of choosing the heaviest foundation and caking it on with powders throughout the day, when you don't actually need it. You may think that this practice is the only way to absorb the oil, but the only thing you are achieving is an abnormal, caked-on appearance that is far from being perfect.
If you are only used to using cheap foundations, I advise you to try at least one high-end product, and you will notice the difference right away. Cheap foundations are excessively drying and they often cause blemishes and clogged pores, which is something you want to get away from. The five products that I have recommended have already been tested and praised by most of their users, so I am confident that you won't go wrong if you consider your skin's needs and choose the right formula from these five options.
When it comes to achieving the perfect makeup look, there is only one fundamental rule: use high-quality products that are in accordance with your skin type and needs. If you follow this rule, nothing could ever go wrong!